Public and Private art gallery.
(previously CCASM)
Exhibition catalogue design & brand building
The Catalogues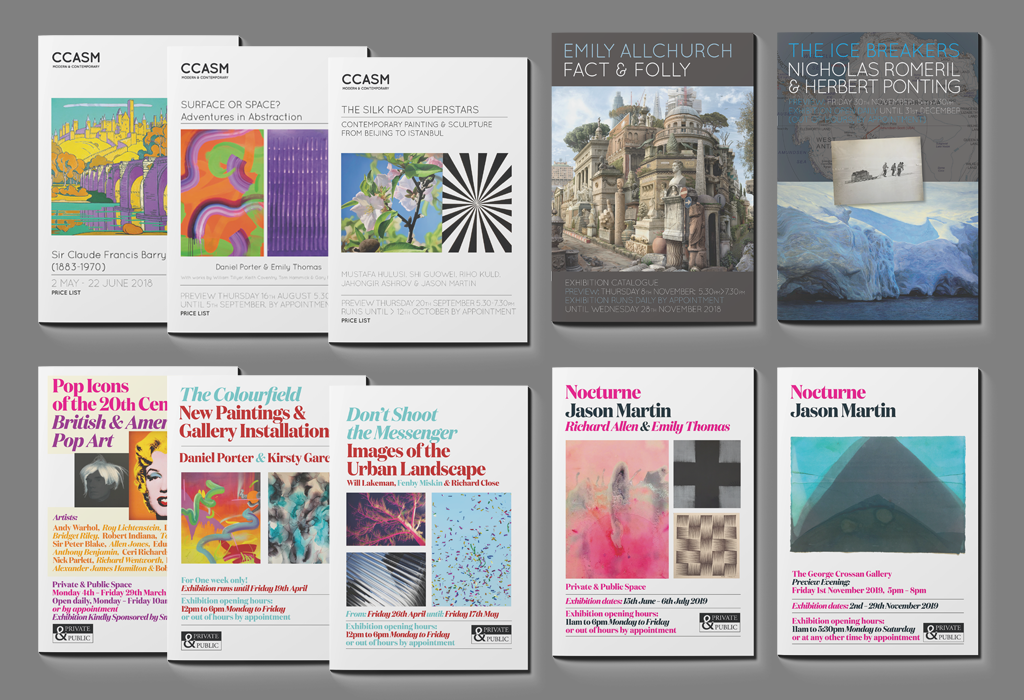 Project Brief
I first met Chris Clifford about 2 years ago and we immediately struck up a relationship with a mutual love of art.
I put it to Chris, at the time, that I didn't feel he was presenting himself and his offerings to his target market in an appropriate manner. In those days (early 2018) whilst he had amazing art such as Prints from the likes of Anish Kapoor and others of his calibre, the offering to the potential paying customers was a stapled together sheet of A4s with some blurred images of the artworks. My view was that selling and marketing art is an art in itself. You want and need to feel that the investment you're making is a legitimate one. It's not just down to money, it's about the process of selling and making the potential buyer DESIRE what the offering is.
For each of the exhibitions I attach sample spreads rather than the entire catalogues as my aim in simply to showcase my design work and you can see how the brand has evolved and progressed from the first catalogue which was the Sir Francis Barry exhibition
The Design Solution
So over the past year or so I've been designing the catalogues, invitations, press ads etc which have, I think, helped to excel the Public and Private offering and consciousness in the Island (and hopefully elsewhere).
It's certainly the case that whereas private views in the past were sparsely populated, now they are shoulder to shoulder events – and that's also, of course, down to the very high quality of investment-grade art that Chris has curated through a number of exhibitions – including, notably, the pop art exhibition, the Jason martin and Nick Romeril exhibitions as well as the recent Street art Exhibition featuring the likes of Banky & Keith Haring, amongst others.
When I started working with Chris he was in a partnership which was CCASM. The company then became as it is now known: Public and Private.
As you'll no doubt see – initally the exhibitions were smallish 20pp A5 guides but as Chris has expanded his offering and exhibitions they've been hitting 36pp for some of the later onces such as the Pop art and Urban Photography exhibitions.
Exhibition 9
Nocturne
Jason Martin, Richard Allen
&

Emily Thomas
June – July 2019
Group Show – gallery introduction (from the exhibition catalogue)
Private & Public Gallery is pleased to announce an exhibition of new work by Jersey's greatest living artist Jason Martin.
Following exhibitions in New York and Paris last year, Jason continues his investigation into the fundamentals of painting creating unique compositions of multiple shades, chromatic blends and elegant tonal shifts.
This exhibition, which is remarkably his first ever in Jersey, will be shown in our principle gallery space and is supported by monochromatic images by the late Richard Allen and gallery artist Emily Thomas whose beautiful op-kinetic drawings tell the story of hard edge abstraction within modernist and contemporary art practice.
As seen throughout his career, Martin never ceases to challenge himself and interrogate the origins and parameters of painting.
Through his experiments into the unknown, Martin explores new materials to discover different reactions through which to expand his practice.
Exhibition introduction (Continued) (His Biog in the exhibition catalogue)
For this exhibition Martin is, for the first time, showing dye and pure pigment paintings which result in a series of works which have an intensely natural feel and earthly elemental nature that appear to make reference to his early life as an artist when he was continually inspired by the natural beauty of Jersey, its landscape, sea and light.
The late Robert Tilling RI, Martin's teacher at Victoria College, had a huge influence over Martin's formative years as an artist and in this exhibition there are unquestionably subtle references to Tilling's work which are both touching and poetic.
Jason Martin is unquestionably one of the world's pre-eminent painters whose large scale paintings fetch six figure sums on both the primary and secondary markets but Private & Public gallery are delighted that local art enthusiasts can now own an original piece for a fraction of that price.
To own one is not only to hold a piece or art history in your hands it is also to have a unique piece of local history that will continue to rise in value in the future.
Exhibition 8 Don't Shoot the Messenger: Images of the Urban Landscape Will Lakeman,
Fenby Miskin

& Richard Close
April – May 2019
About Will Lakeman (His Biog in the exhibition catalogue)
Growing up in Jersey I was seldom interested in looking at images of my home, because they seemed mostly to represent an idealised view of the Island that appealed either to tourists or to the values of traditional landscape photography.
As a depressed teen without money or transport these didn't interest me because I wanted chiefly to escape from this sunlit and familyfriendly world. I tried to achieve this through retreating inwards into my own imagination, to dream of being somewhere else, and then again travelling outwards through the lurid worlds of science fiction and suburban horror. Although I'm no longer either as young or as antisocial I continue searching for weird corners and obscure angles that show a hidden side to our landscape. I still dream of scenes that are humorous, coloursaturated and above all strange.
This exhibition includes a particular selection of my work – primarily taken at night and focussing predominately on buildings and other human spaces.
I am not a realist and am happy to manipulate the light and composition of the images, but I do try to uncover sensations that already exist to some degree in the spaces where I work.
Buildings may be constructed to favour the functional but I believe it's important to allow your own imagination to expand into the cracks and corners of any public space. It may be that some of these feelings only exist for me but I am trying to use photography to excavate what is beneath the manmade and also within myself.
Many of my photographs are taken in Jersey but I am attracted to the same subjects regardless of where I find myself. I believe it is important for art to demonstrate that our Island has as many dark places as any community, hides bright lights in unexpected locations, and has countless areas that remain unexplored in an emotional if not physical sense. Some of these could be described as abandoned or derelict, but I believe that any space can be made strange and new again by the coming of night or the absence of other people. This has always felt like a freedom to me, although it's a freedom that contains elements of fear and danger.
About Richard Close (His Biog in the exhibition catalogue)
I grew up in Kent, near Canterbury. As a child, I was surrounded by historic buildings where traditions are deeply rooted. As part of an army family, however, there was also, always, a sense of movement and disruption.
In 2003 I came [with my partner] to live in Jersey. Here, I have found a structure and routine for my life.
Both of these aspects of my life, movement and stability, are reflected in my photography.
I have found my subjects whilst I have been travelling rather than closely at hand here in Jersey. The subjects themselves, in contrast, are monumental and characterized by their strong, often rhythmical, forms: buildings and sculptures may be in distant places but they do not move.
At the same time, however, as being stone, concrete, steel and glass, the things that catch my eye also have lightness and life and depth.
The work I now exhibit has been a project I started eight years ago. I wanted to find a way of communicating by way of photography not just the surface and the shape of an object but the way that it is. I want an image to give a sense of strength and depth and movement. A curve in a roof-strut may be dynamic. Working in three dimensions, a sculptor can make marble seem alive.
Expressing this through photography has been an interesting journey, discovering what subjects work and, of course, what do not. Some of my earlier experiments had no life: they were too solid or they had no strength of form. The best results come when there is texture and rhythm.
The technique I have developed to express what I want has the effect too that the works are themselves three-dimensional objects. They are physically heavy and solid but there is also an element of illusion. Each part is flat but together they allow the observer to see different angles and perspectives by changing their own viewpoint, stability and movement.
About Fenby Miskin (His Biog in the exhibition catalogue)
I use photography to document my small observations. The objects, places and views are all linked together. The presentation and sequencing are my interpretation, but I hope that theviewer will create their own response.
After photography college I worked for clients such as Rank Xerox, Royal Mail and the Metropolitan Police alongside my editorial work for Homes & Gardens and Period Homes.
Years later, and with no commercial constraints, I began to develop my eclectic style. I'd move from portraits to architecture, from the beautiful to the gritty; I would switch from colour to black & white and digital to film.
To prepare for this exhibition I began by revisiting and reorganising my photographic journey from the last 10 years. I broke apart the chronological folders of accumulated images to search for my personal photography story. I discovered sympathetic associations between seemingly unconnected images. I don't know whether these are chance, or I was referencing my memory when taking the photograph. Sometimes a theme emerges such as colour, pattern or symmetry, but the original moment was a response or reaction to what was in the viewfinder.
Exhibition 7 The Colourfield – New Paintings & Gallery Installations Daniel Porter
&

Kirsty Garcia
one week only pop up exhibition – April 2019
About Kirsty Garcia
KIRSTY GARCIA rose to prominence with her in situ paintings, in which explosive colour is painted directly onto architectural interiors.
The artist embraces the events and incidents that arise as she works, opening up surfaces and spaces to the countless perceptual possibilities of the medium. Approaching painting as an experience in immersive subjectivity, she uses traditional painting techniques to create gestural and propulsive marks onto the surface of both walls and canvas.
Born in Jersey, Kirsty began painting at an early age and has always been attuned to the ways that colour and light merged with thought itself. In her earlier works she juxtaposed colors of various densities and temperatures, repeating vertical, transparent brushstrokes. These led to related works painted directly onto the wall, where she has lined hallways in sublime fields of artificial colour.
For this exhibition Kirsty has chosen to tackle the end wall of the main gallery space for a one off installation but other examples of her smaller works are available to purchase.
About Daniel Porter
DANIEL PORTER's paintings explore the very nature of painting both as cultured language and sheer expression and he disregards the classical polarities of abstraction and representation, past and present, canvas and frame. Assertive compressed gestures, sweeping complex textures, a lush palette, and the dynamic interchange of light and dark are all traits of his distinctive signature. With their maximalist gestures and saturated colors, his more intimately scaled paintings appear jewel-like, while larger works are opulent and theatrical. Painted onto canvas and glass they operate as both objects, images and mirrors and embrace joyous spontaneity and directness in equal measure.
His studio practice is a processes of reflection and capitulation and it may take a year for Daniel to prepare to execute a single brushstroke. The seemingly casual, urgent quality of his paintings belies the fact that most of them have been worked on for two or three years. More than ever they convey the relationship between hand, eye, and memory that drives their process, visual structure, and emotional temperature.
For this exhibition Daniel's works are displayed in the main gallery space and the interplay between Daniel and Kirsty's works will produce a truly dynamic exhibition the likes of which has never been seen before in Jersey.
Exhibition 6 Pop Icons of the 20
th

Century
British & American Pop Art
March 2019
Exhibition catalogue introduction
Featuring works by:
Andy Warhol, Roy Lichtenstein, David Hockney, Bridget Riley, Robert Indiana, Tom Wesselmann, Sir Peter Blake, Allen Jones, Eduardo Paolozzi, Anthony Benjamin, Ceri Richards, Paul Jacoulet, Nick Parlett, Richard Wentworth, Patrick Caulfield, Alexander James Hamilton & Bob Dylan.
Emerging in the mid 1950's in Britain and late 1950's in America, Pop Art reached its peak in the 1960's and went on to become the most recognisable art form of the 20th century.
It began as a revolt against the dominant approaches to art and culture and traditional views on what art should be.
Young artists felt that what they were taught at art school and what they saw in museums did not have anything to do with their lives or the things they saw around them every day. Instead they turned to sources such as Hollywood movies, advertising, product packaging, pop music and comic books for their imagery.
Exhibition Introduction (continued)
Private & Public Space are therefore delighted to bring this blockbuster exhibition 'Pop Icons of the 20th Century' to Jersey to enable residents and visitors to own works by some of the greatest post war artists from America and Britain.
Although they were inspired by similar subject matter, British Pop Art is often seen as distinctive from the American version. Early pop art in Britain was fuelled by American popular culture viewed from a distance, while the American artists were inspired by what they saw and experienced living within that culture.
In the United States, pop style was a return to representational art (art that depicted the visual world in a recognisable way) and the use of hard edges and distinct forms after the painterly looseness of abstract expressionism.
By using impersonal, mundane imagery, pop artists also wanted to move away from the emphasis on personal feelings and personal symbolism that characterised abstract expressionism.
Exhibition 5 Nicholas Romeril & Herbert Ponting The Ice Breakers November & December 2018
Exhibition catalogue introduction
Showcasing the work of two very talented Antarctic adventurers, featuring poignant photographs taken over a hundred years ago and on display in the Island for the very first time.
Sponsored by Voisin Law, 'The Ice Breakers' is a new exhibition showcasing work from Herbert Ponting alongside local artist Nicholas Romeril. The exhibition explores the work of the both the very first and the most recent cultural attachments to the polar expeditionary force.
Visitors to the gallery will be led on an historic journey through a series of photographs taken by Ponting during the winter of 1911 when he joined the Terra Nova Expedition, officially the British Antarctic Expedition.
Exhibition Introduction (continued)
Ponting took some of the first known colour still photographs of the expedition led by Robert Falcon Scott who wanted to be the first to reach the geographic South Pole. Having got there on 17th January 1912, the team discovered they'd been beaten to it 34 days earlier by a Norwegian team.
Tragically Scott's entire party died on the way home and Ponting's photographs, the only visual record of this historic expedition soon became a memorial to Scott and the team.
More than a century later, Jersey artist Nick Romeril embarked on his own Antarctic expedition when in January this year he was the 2018 artist in residence for the Friends of Scott Polar Research Institute.
Romeril travelled 3,500 miles in total on board HMS Protector and was taken close to some of the colossal blue bergs which feature among the 200 plus small paintings and drawings he created during the trip and examples of his recent oils as well as a selection of local seascapes will be available for purchase.
Exhibition 4 Emily Allchurch Fact and Folly November 2018
Exhibition catalogue introduction
Fact & Folly by Emily Allchurch, is her first major exhibition in the island.
Born in Jersey in 1974 and educated at Jersey College for Girls, Emily studied Fine Art at the Kent Institute of Art & Design in Canterbury and the Royal College of Art in London.
She has since established an international reputation for her complex and intricate photographic compositions.
Emily Allchurch works with photography and digital collage to re-imagine Old Master paintings and prints from a contemporary perspective. Adopting the compositional framework of these original images has evolved as a useful device to allow her own explorations around architecture, place, and culture to emerge, infusing the present-day with a sense of history.
Her starting point is an intensive encounter with a city or place, to observe and absorb an impression, and gather an extensive image library. From this resource, hundreds of photographs are selected and meticulously spliced together to create a seamless new fictional space. Each artwork re-presents this journey, compressed into a single scene in order to focus on a social narrative. The resulting images form a snapshot of our times and are peppered with topical markers spotted in the environment: signage, advertising, graffiti, CCTV surveillance, protest banners etc.
Exhibition Introduction (continued)
Although also available as prints, presenting the work as lightboxes enhances their theatricality, and creates a window into another world.
Allchurch has exhibited regularly in solo and group shows in the UK and internationally, including the USA, Canada, Hong Kong, Japan, Singapore, Italy and Germany. Solo museum exhibitions include In the Footsteps of a Master at Manchester Art Gallery (2015), which toured to the
Djanogly Art Gallery in Nottingham, and Visions of Architectural Fancy at the Sir John Soane's Museum in London (2018).
Her works are held in private collections worldwide, with a complete set of her 'Tokyo Story' series in the permanent collection of the Minneapolis Institute of Arts, and the offices of Fidelity International, Tokyo.
Commissions include Her Majesty's Diamond Jubilee River Pageant, commissioned by the States of Jersey in 2012, which is on permanent display at the Royal Court, St Helier; Albert Square, Manchester
(After Vallette) by Manchester Art Gallery/Art Fund initiative (2015); and Rathbones Story (2017) for Rathbones HQ, London.
In February 2018, Emily was a Finalist from over 4000 applicants in the Columbia Threadneedle Prize in London and won the Visitors' Choice Award.
Exhibition 3 The Silk Road Superstars MUSTAFA HULUSI, SHI GUOWEI, RIHO KULD, JAHONGIR ASHROV & JASON MARTIN Sep –  Oct 2018
Exhibition catalogue introduction
This group exhibition brings together some of the most interesting and highly acclaimed international artists practising today all of whom have works displayed in national museum collections from Beijing to Istanbul.
The curated theme for the show explores the blending and dissemination of art along the staging posts of the Silk Road and how it closely related to the larger context of the travel of people, their beliefs, culture and merchant trade from east to west.
Exhibition Introduction (continued)
Religion was an important inspiration for art everywhere, and much of the art of the Silk Road was religious in origin. This includes not only the extravagant visual art of Buddhism, which created a legacy of thousands of statues, murals, and illustrated texts across much of Central and East Asia, but also the glazed tilework of Islamic mosques, which stresses calligraphic, geometric, and other nonrepresentational artistic motifs.
But as justly famous as this Buddhist art is, it is only one of many types of art that have flourished or been transported along the Silk Road over the centuries. Artistic artifacts and influences of many cultures, in many media and in many styles have traveled in both directions along the Silk Road, and have exerted their influences over surprisingly long distances. In addition to sculpture and pictorial art, the art of the Silk Road includes textiles, ceramics, metalwork, glass, and a wide variety of decorative techniques applied to objects of beauty and utility.
Each of the artists featured in this exhibition have drawn their inspiration from the ancient trade routes and this show provides a unique opportunity to see contemporary cultural interpretations of thousands of years of humanity by artists from Turkey, Uzbekistan, China and the former Soviet Union.
Chris Clifford commented: "It's rare for a gallery, not only in Jersey, but anywhere, to secure such an extraordinary treasure trove of incredibly beautiful, intricate & powerful imagery from artists of global significance.
This exhibition is a must see for anybody with an interest in art, and, it is a unique opportunity to view a curated exhibition which fully explains both their individual and contextual importances".
Exhibition 2 Daniel Porter and Emily Thomas Aug – Sep 2018
Exhibition catalogue introduction
The Directors of CCASM Modern & Contemporary are delighted to welcome you to our latest exhibition which predominantly focusses on two young English abstract painters, Emily Thomas and Daniel Porter who have recently moved to Jersey and established professional working studios.
The exhibition is augmented by paintings from some of the most interesting and highly collectible British abstract painters alive today including William Tillyer, Keith Coventry and Tom Hammick in addition to new works by the Canadian based painter Gary Pilkington who lived briefly in Jersey 20 years ago.
The curated theme for the show explores the central issue in abstract painting since the Russian artist Wassily Kandinsky created the first abstract canvas in 1911. In the paintings he made between 1911 -1916 Kandinsky created the illusion of a three dimensional space using vibrant colours and natural forms.
Exhibition Introduction (continued)
Within two years this avant garde approach was quickly denounced by fellow Russian artist Kasimir Malevich through his concept of Suprematism which sought to develop a form of expression that moved as far as possible from the world of natural forms and subject matter in order to access "the supremacy of pure feeling" and spirituality in which the canvas became a two dimensional surface.
Early on, Malevich worked in a variety of styles, quickly assimilating the movements of Impressionism, Symbolism and Fauvism, and after visiting Paris in 1912, Cubism.
Gradually simplifying his style, he developed an approach with key works consisting of pure geometric forms and their relationships to one another, set against minimal grounds. His Black Square (1915), a black square on white, represented the most radically abstract painting known to have been created and drew "an uncrossable line between old art and new art".
Emily Thomas and Daniel Porter are two very talented painters who have diametrically opposite views on how and why abstract paintings should be made and presented. As such we see this show as a great opportunity to highlight the formal concepts contained within abstract painting and provide the public with a richer appreciation of the issues faced by practising artists who have differing viewpoints on the nature of contemporary art practice.
Exhibition 1 Sir Claude Francis Barry (1883 – 1970) May – June 2018
Artist / exhibition background or introduction
Until recently, Sir Claude Francis Barry was not a widely known name in British modernism.
This is possibly because he came from a wealthy, aristocratic family and sold few of his works during his lifetime, leaving a prodigious body of work in his studio on Jersey when he died. Barry was educated at Harrow and, against the wishes of his family, followed his inclinations as a painter from the moment he left school.
He studied in Newlyn – then a burgeoning centre of painting – and from the age of 23 exhibited at the Royal Academy and later at the Royal Society of British Artists and the Salon des Artistes Français.
Indeed, his style was in some ways more aligned to French than to English painting.
Exhibition Introduction
Barry was a pacifist; he had spent World War I as an agricultural labourer and at the outbreak of World War II he reluctantly returned from years of living and travelling in France, Italy and Germany to settle in St Ives. There he studied for a time with Stanhope Forbes, and he would have come into contact with other artists working there at the time – among whom Laura and Harold Knight, Augustus John and Alfred East. After the war, Barry moved to Jersey and lived here for over 20 years, regularly using the island as his subject.
Despite his being a pacifist, the subject of war clearly inspired some of his best known work. He experimented with different styles, most obviously the French Pointillist style of separating colours into dots and using them in conjunction with each other to deliver a more vibrant result. However, one also sees evidence of his having looked at the British Vorticists and some of his impressive, war-related canvases of the 1940s were painted in a combination of these styles. The fountains of coloured lights in these paintings dramatically intersected by angular searchlights, provide some of his most successful compositions and one such work is the centre piece of the exhibition. His work is now very much sought after at auction and in specialist dealerships, with early works fetching hundreds of thousands of pounds, whilst the later works from Jersey have barely been marketed since leaving the studio so are available at much more competitive prices.
His most recent UK museum retrospective in 2011 was reviewed by the Financial Times under the moto, "The Greatest Artist you've Never Heard Of", a situation that has finally begun to change since that show.