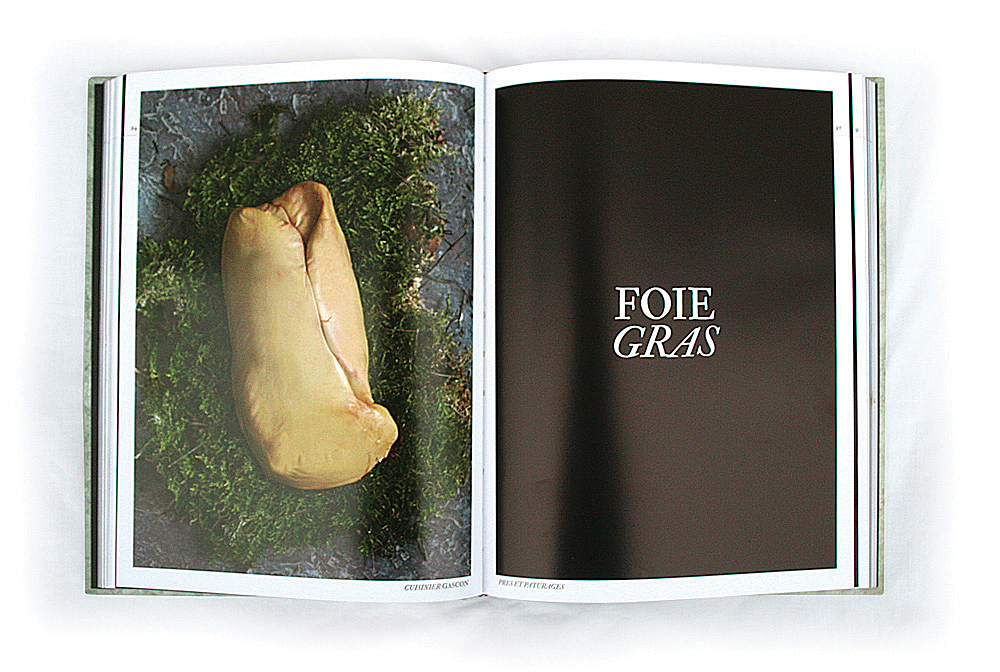 The brief
Following the success of The Cinnamon Club cookbook, Absolute Press asked me to get involved with another very exciting project. To design, art direct, produce & deliver a new cookbook: Cuisinier Gascon.
The chef, Pascal Aussignac had already got his Michelin star for this restaurant in Smithfield, London: Club Gascon and I was to work once more with my favourite food photographer: Jean Cazals.
The brief was, as always, go and chat to Pascal (and then obviously Jean) and come up with typographic, photographic & layout style and concepts. From there to art direct the photography, and design and produce the entire book to deliver the final to the printers, after which, of course, the publishing house took over with sales and promotions.
Making it happen
Once Pascal and Absolute Press were happy with my design proposals we pressed ahead.
Two weeks shooting in Jean's Notting Hill studio and then we were off to Gascony – my favourite part of France – for a further two week location shoot of providers, suppliers and the region of Pascal's subject matter.
The studio shoot was fantastic with both Jean and Pascal hugely creative in the food presentation as always.
Pascal brought along a perspex oblong box, open at one the bottom so we could plate up food directly onto the box – but with the respective assorted props etc underneath and shot from overhead on the whole, it meant the food display was in-interfered with by such inconveniences as trying to plate up on a swans wing, for instance!
The book's typography
When researching and planning exactly how the book would look I came across what was then a new release of some 16th century French and English typefaces known as "The Fell Types" which had, at that time (2009) been recently digitised by Igino Marini but which have since become available as Google fonts although they weren't then.
They were perfect.
As IS my style, I like to mix the old with the new, so new (but ancient) typography – laid out with modern design principles – and of course, great photography and recipes was, literally, MY design recipe.
The Result
I'm happy to say that not only was the book a commercial success but it also won a number of awards.
Gourmond World Cookbook Awards:
Best French Cuisine Cookbook published in the UK – Gold
honor date: Jun 2009  

honor description
Cuisinier Gascon Cookbook.
Winner of Best French Cuisine Cookbook published in the UK in 2009. Published by Absolute Press. for Michelin Starred Chef Pascal Aussignac of London's Club Gascon

Gourmond World Cookbook Awards:
Best French Cuisine Cookbook published Globally – Silver
honor date: Jun 2009  

honor description
Cuisinier Gascon Cookbook.
Winner of Best French Cuisine Cookbook published Globally in 2009. Published by Absolute Press. for Michelin Starred Chef Pascal Aussignac of London's Club Gascon
Cuisinier Gascon Cookbook.
Selected spreads image gallery & lightbox